Jaffrey Chamber PRIDE Award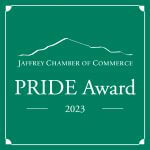 The Jaffrey Chamber of Commerce has opened the application process for the 2023 PRIDE Award. With an endowed fund administered by the New Hampshire Charitable Foundation, we are seeking applicants who have demonstrated an outstanding contribution to the betterment of their community and have a project which will return an educational benefit to the community.
This opportunity is available to residents of Jaffrey and Rindge who have creative ideas for non-profit service, professional development, or non-traditional learning which will lead to the educational enrichment of the community. The monies in the Pride Award fund may be awarded by submitting a proposal reflecting the intent of community betterment in an individual's goals and objectives, and a timeline and budget for the activity.  The selection committee includes representatives from the Chamber, schools, businesses, and general community who meet periodically to assess the applications and make recommendations to the NH Charitable Foundation. The Foundation makes sure the application meets all the criteria and informs the committee of its decision.
The first PRIDE Award was given in 1991 with over $50,000 awarded up until Covid times. The application is available for download here.
Sincerely,
The Pride Award Committee
Cyndy Burgess, Cathy Furze, Owen Houghton, Sheila Girbach, Sharon Tieger, Kim Baker, Dayna Jackson